My Clique
Mahina-Tahiti-17

Aquamarine Princess/Wave Maker
Fighting Style-Silat
House Mother
Surfer/Tomboy
Mahina is the only girl in a family of 12 kids.  Even thought she's a tomboy and surfing instructor at home, she's also a mother figure to her 11 brothers and immediately takes on that roll in the house with the girls.  Mahina is a percussionist who specializes in the Timpani drums.

Josie-Mexico-15
Ruby Princess/Water to Ice
Fighting Style-Tiger Claw/Shaolin
Naïve Bombshell
Josie has been playing the guitar since she was a small child in Sonora, Mexico playing in her father's mariachi band. She is the most developed of the girls and is too innocent to notice the effect she has on the opposite sex. She is friendly and exuberant but goes into a shell when someone mentions her body.  She feels self-conscious and maybe even a little ashamed. Josie is always the life of the party.  She's so sweet she makes everyone feel welcomed, but is often bullied by the mean girls because of her childlike optimism. She plays the keyboard and sings in a rich alto.
Navah-India-12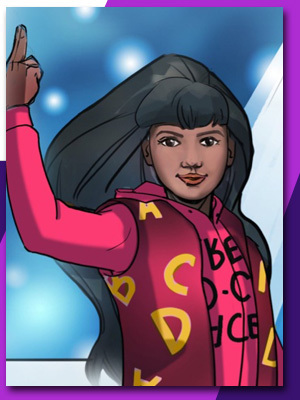 Topaz Princess/Water cannons
Fighting style-Wing Chung
Precocious Prodigy
Practical Joke Queen
Navah is the youngest CJG and is a child prodigy who plays eight different instruments. She has played with the great Yo-Yo Ma and even met Prince William. She is a sensation in her hometown of London, England where upon her return she will be entering into a special program at Cambridge University to begin her college education. Her parents let her participate in the show on the advice of her therapist and professors who deals with gifted children. Navah feels isolated most of the time so she doesn't expect to make friends on the show. She do not have friends her own age. Her communication skills aren't in question when she performs hip hop. Because of her social awkwardness, she has a hard time warming up to the other girls in the house so she plays practical jokes when she's bored.  Once Mahina saves her from a thrashing by the mean girls, the two of them bond and their group takes on as a second family for her. Her powers over water frighten her, but not as much as exposing the secret that she is keeping from everyone. The guilt she feels keeps her from making friends in the house.  She feels it may ruin her chances of winning the Battle of the Bands World Edition.